Peak Park Preserved Bus Gathering 2013
Sunday 16th June 2013
Email : dennisvickers123@hotmail.com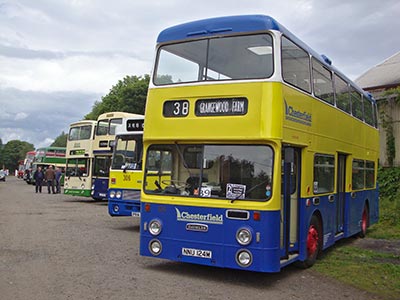 124 is seen at the 2011 rally at Rowsley South Station.
It is hard to believe that 2013 will see our 8th Derbyshire gathering, and we are so pleased that it has become an established and popular event in the annual rally calendar. Our gathering last year received many complimentary reports in the enthusiast magazines. It was grand to see so many entrants and visitors enjoying themselves as preserved buses, carrying good crowds, were loading and departing on their frequent bus services, surrounded by static vehicles being judged and sales stalls plying their trade, all amongst the nostalgic sounds and smells of Peak Rail's steam and diesel railway engines.
To many, a highlight of our event is the opportunity to enjoy travelling on both preserved buses and the heritage railway, and Peak Rail offer special reduced price single fares on their trains so that the opposite journey may be made on the frequent free bus services that visit all three stations on this scenic line. Last year our route to Chatsworth House, which travels through the royal park and terminates in front of this stately home, carried large crowds and will thus have an increased frequency for 2013.
We therefore invite you to take part with your preserved bus. The space available allows for a maximum of 65 buses on site and, as always, we will keep our special atmosphere by admitting only preserved buses (NOT new vehicles or those still in service unless they form part of heritage fleet). Buses that have been fully restored are invited to be entered for judging by a distinguished panel of experts from local bus operators. A large grass area is available for sales stalls.
Your bus is also most welcome to join in the preserved bus services which will operate between 11.30am and 4.00pm from the station platform entrance. We will express our gratitude to those buses taking part in these runs on the day by refunding your entry fee and presenting a small 'thank you' reward.
We do hope that you, your bus and your friends will enjoy this day. To enter, simply download, complete and return the entry form below along with your £2 fee.
Looking forward to seeing you in June.

2013 Entry Form

2013 Information Leaflet

2013 Stall Holders Entry Form
2013 Entries (last updated 15/06/13)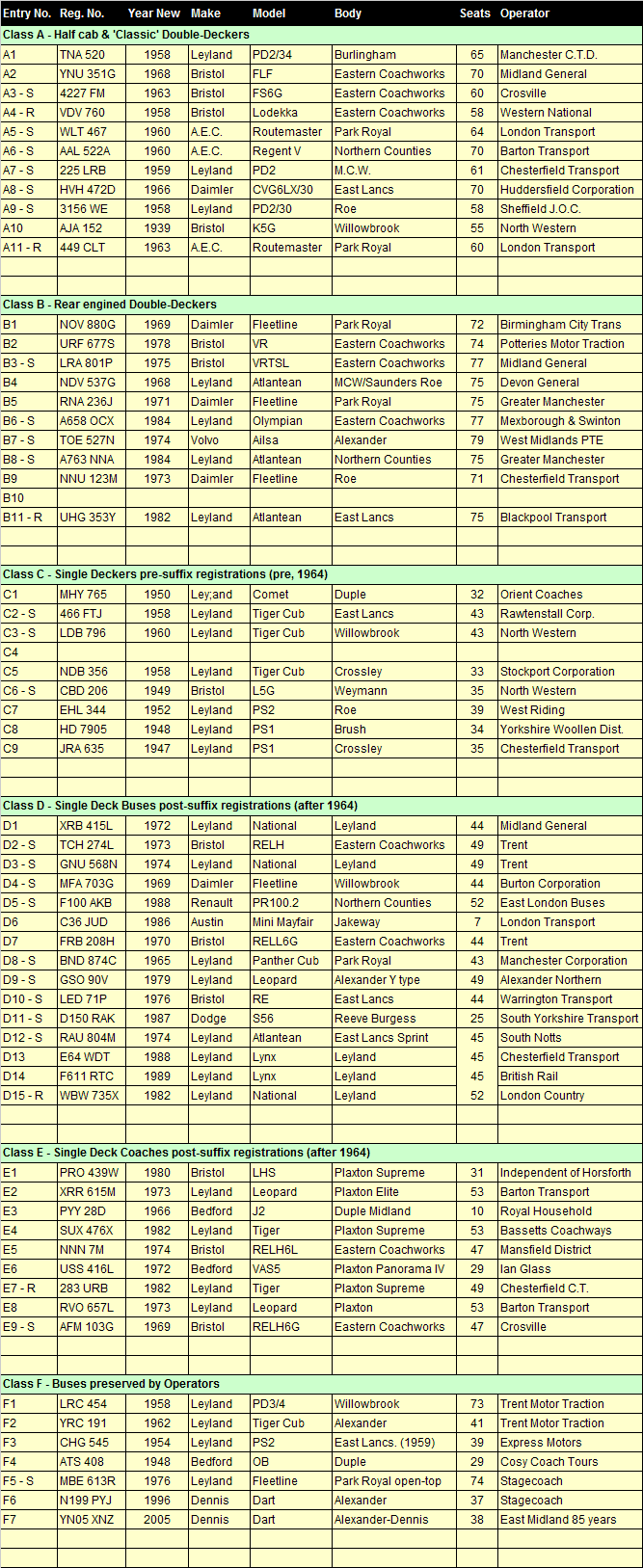 A class number followed by the letter S indicates that the bus will be used on the free bus services.
A class number followed by the letter R indicates that the bus will be available for use on the free bus services as cover for vehicles that are not available on the day.