3 - RHE 969X
FLEET NO. :
3
REGISTRATION NO. :
RHE 969X (current)
ANK320X (from new to 2/87)
283URB (from 2/87 to 1/90)
CHASSIS :
Leyland Tiger TRCTL11/3R / No. 8101062
BODY :
Plaxton Supreme VI / No. 8212LTS6C002
GEARBOX :
6 speed ZF manual
DATE REGISTERED :
02/82
WITHDRAWN :
2012
OTHER OWNERS :
Biss of Bishops Stortford, Snells of Newton Abott, Caring Coaches of Shuttlewood, Chesterfield & Coopers Tours of Killamarsh.
PURCHASED BY 123 GROUP :
06/12
CURRENT STATUS :
Serviceable
Restoration work has now been completed on the Chesterfield 123 Preservation Group's seventh vehicle, recently acquired Leyland Tiger / Plaxton Supreme VI - RHE969X.
It was a passing comment one evening regarding a Plaxton Paramount bodied Leyland Tiger which was for sale at Coopers of Killamarsh, back in May that started it all. Graham Cooper asked us if we wanted to buy the Paramount, to which we responded, "maybe if it was RHE we would consider it", it all went from there.
RHE 969X (formerly 283URB & new as ANK320X) has been based in the Chesterfield area since 1986, therefore our members have recollections of her operating with Chesterfield Transport, Caring Coaches & latterly although still in a 'Caring' livery with Coopers of Killamarsh. We have lost count of how many 'what if' conversations have taken place when seeing her in the locality, as we always thought it would be great to see her back in Chesterfield Transport livery to represent the coaching department on the preservation scene.
So the 'what if's' were to become a reality on Saturday 30th June 2012 when RHE was withdrawn from service at Coopers of Killamarsh & became coach no. 3 with the Chesterfield 123 Preservation Group. No time has been wasted in restoring her back to Chesterfield Transport 'de-regulation' condition with the aim being for her to debut at Showbus 2012.
Volunteers were sought to assist with the various work required & this was under way within days. Fortunately due to the excellent condition of her upon withdrawal from Cooper's, restoration has been relatively simple & this has allowed for a speedy job to be carried out with a in our opinion a fantastic end result.
Work carried out has included the fitting of a replacement emergency door, new interior & exterior light fittings, installation of destination blinds (we actually had her original blind in our collection!), the replacement of just one external panel & the installation of a light unit to ensure the 'Chesterfield' logo on the rear of the coach is illuminated at night! We must not forget also the fitting of the various Leyland & Plaxton badges, which have joined those fitted from new.
The artwork for the required vinyl's was prepared by group member Robert Collis & these were then purchased from McKenna Bros of Manchester whom were most helpful & have certainly not disappointed with the quality of their product, we got exactly what we asked for.
The icing on the cake is that we are expecting her to regain the cherished '283URB' registration mark over the coming weeks.
We would like to thank the following people for their assistance in restoring coach no. 3 to her former glory. Alan, Graham & Russell Cooper of Coopers Tours, Alan Smalley (owner of various vintage Chesterfield Transport vehicles), Richard Turner (former Chesterfield Transport employee) & the Directors, Management & Workshop Staff at Stagecoach in Chesterfield.
Photos
Chesterfield Transport publicity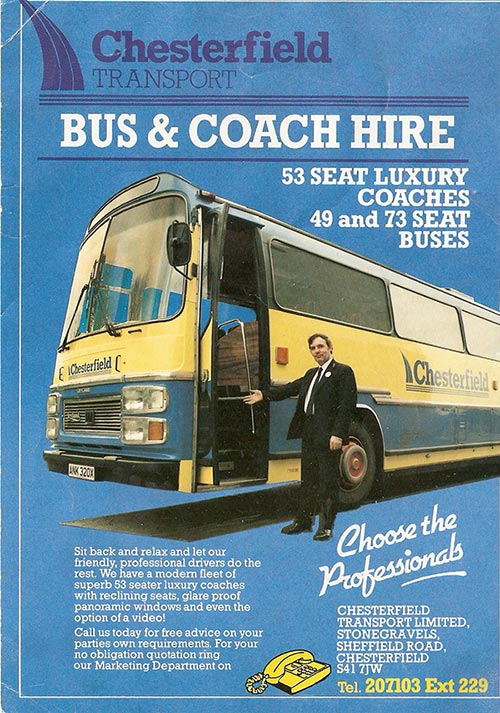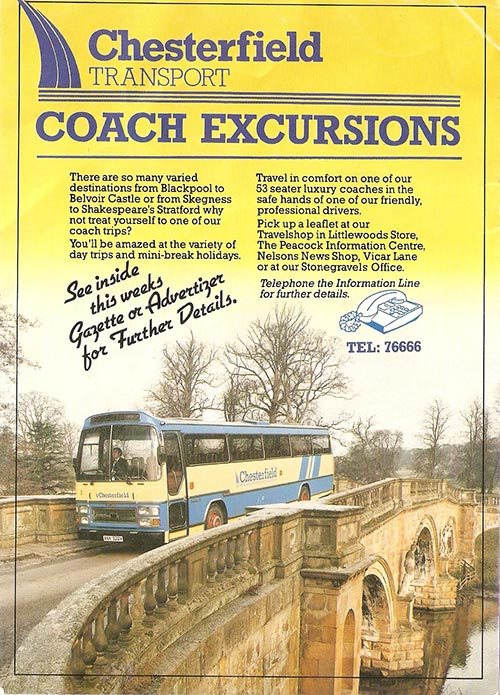 In Preservation

Now once again carrying the registration 283 URB
PHOTO : Shayne Howarth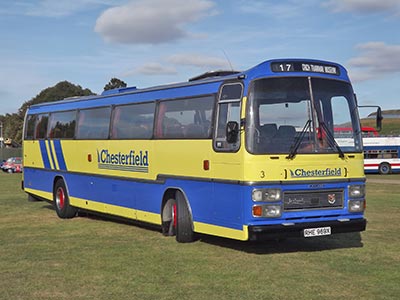 SHOWBUS 2012
PHOTO : Shayne Howarth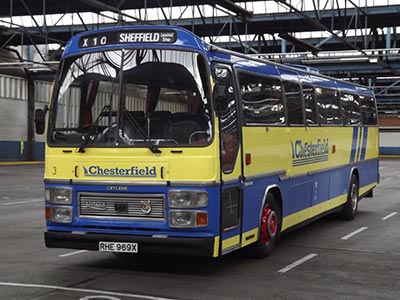 Completed just in time for SHOWBUS!
PHOTO : Shayne Howarth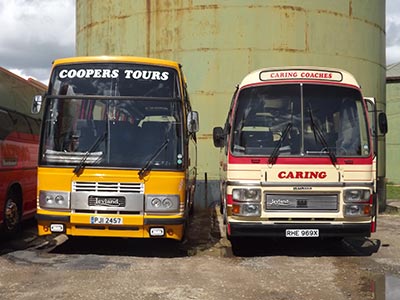 Seen at Coopers Tours of Killamarsh depot upon collection on the morning of 30th June 2012. Beside is PJI2457, another Leyland Tiger new as A522 LPP .
PHOTO : Shayne Howarth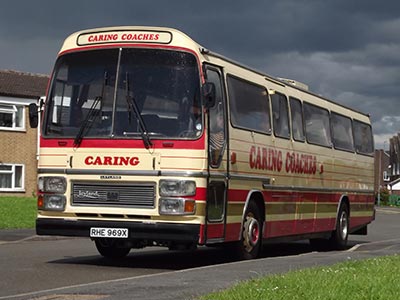 Seen at Holme Hall, Wardgate Way on the afternoon of 30th June 2012 shortly after collection
PHOTO : Shayne Howarth