16 - J216 AET
FLEET NO. :
16
REGISTRATION NO. :
J216 AET
CHASSIS :

MB 811D 670303-2N-001151

BODY :
Alexander

AM90/2491/3

GEARBOX :
Automatic
DATE REGISTERED :
May 1992
WITHDRAWN :
2007
OTHER OWNERS :
Stagecoach
PURCHASED BY 123 GROUP :
01/09
CURRENT STATUS :
Serviceable
Chesterfield 123 Preservation Group member Neil Jones has recently purchased the seventh vehicle to join the 123 Group collection, J216 AET is a Mercedes 811D with Alexander Sprint B31F bodywork.
J216 AET entered service with Chesterfield Transport Limited as fleet number 16 in May 1992 as part of a batch of seven identical vehicles. The batch carried a version of the company's blue, yellow and white livery with "Spire Sprinter" fleetnames. Originally fitted with a manual gearbox, 16 was converted to automatic transmission along with most of the batch early in its life.
In July 1995, 16 passed to Stagecoach East Midland following its takeover of Chesterfield Transport.
With the exception of a couple of years operating for Stagecoach in Hull, 16 has always operated from Chesterfield Depot and latterly became Stagecoach in Chesterfield's 41716.
16 became the last ex Chesterfield Transport bus operating for Stagecoach finally being withdrawn from service in December 2007. After a year in storage, Neil purchased the bus from Stagecoach Yorkshire in January 2009 and hopes to restore it to original Chesterfield Transport condition in the near future.
Photos
In Preservation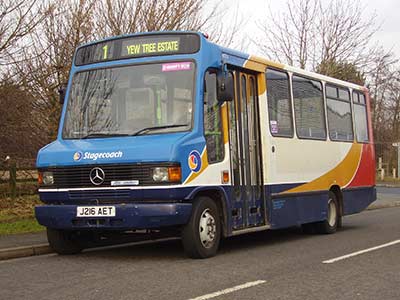 16 as withdrawn from service.
PHOTO : Shayne Howarth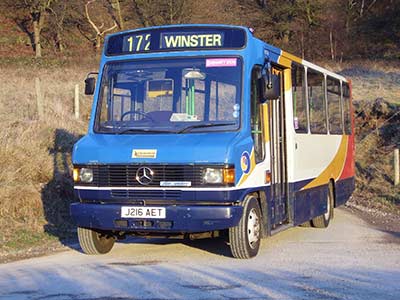 PHOTO : Shayne Howarth