123 - NNU 123M
| | |
| --- | --- |
| FLEET NO. : | 123 |
| REGISTRATION NO. : | NNU 123M |
| CHASSIS : | Daimler Fleetline CRL6-30 / No. 67438 |
| BODY : | Roe / Chesterfield Transport H42/29D / No. GO 7351 |
| GEARBOX : | CAV / SCG Semi-Automatic |
| DATE REGISTERED : | 22nd August 1973 |
| WITHDRAWN : | 31st July 1996 |
| OTHER OWNERS : | None. |
| PURCHASED BY 123 GROUP : | September 1996 |
| CURRENT STATUS : | Serviceable |
More information on 123
WITHDRAWN 11th September 1981 after catching fire on 9th September. Reinstated 15th July 1983 after re-bodying. Finally withdrawn on 31st July 1996 after service on 29th July 1996. Last run was the 17:58 route 81 from Hillstown to Chesterfield. Purchased by the 123 Group direct from Stagecoach East Midland who acquired 123 with the business of Chesterfield Transport Ltd. in July 1995.
REBUILDING The decision to rebuild was taken on 23rd March 1982 by the Transport Committee of Chesterfield Borough Council. Work commenced late June 1982. 123 was taken into the depot on 28th June 1982 and into the workshop on 29th June.
Mid July 1982 - Stripped of its outer panels and seats (except for undamaged front end).

March 1983 - Rebuilding nearly complete. Panels, roof and windows required. Wiring complete. Expected to return to service in a couple of months.

May 1983 - Routine jobs in bodyshop caused work to stop in late March. It was started again in April. The expected return to service was delayed until summer. The interior, especially the seats, still required much attention. In early May the engine was removed for major overhaul.

July 1983 - See information from Transpire News Sheets below.

July / August 1983 - Suffered mechanical problems and did not complete a full day in service until 5th August 1983. It was displayed in Queens Park for the day on 27th July 1983.

Below is more information on 123 taken from the Transpire News Sheet No. 32 of 13th September 1981 :-
"Vehicles Withdrawn - 123 - 1973 Daimler Fleetline (NNU 123M) - on 11th September, 1981. This premature withdrawal was the result of the bus sustaining severe fire-damage on 9th September.
As part of schedule trials involving linking the duties of a bus working one of the new Alfreton School contract services and Service 200 (Clay Cross - Sheffield: Limited Stop), this bus operated Service 366 (Stonebroom School  - Mortimer Wilson School, Alfreton) on 9th September. It then worked light to Clay Cross to operate the 09:10 hours Service 200 journey.
At 09:50 hours whilst en route to Sheffield the bus halted at Low Edges and a bus change was requested by the driver as there was a smell of fumes in the saloon. A replacement bus was brought from the depot and mechanic Malcolm Hartshorn returned to Chesterfield in 123, preferring the old A61 road through Dronfield to the by-pass. However, as the bus passed through the centre of Dronfield smoke and fumes suddenly poured from the lower saloon. Mr. Hartshorn drove on through the narrow main road until he reached a lay-by on Chesterfield Road, Dronfield. Flames spread rapidly from the rear of the lower saloon and despite a speedy appearance by the Dronfield Fire Service, the bus was gutted.
After being returned to the depot, the shell of 123 was examined by fire, police and forensic scientists. These investigations continued until the end of the following day.
News of the incident appeared on the front page of the Sheffield edition of "The Star" on 9th September and in "The Derbyshire Times" of 11th September.
Historical Note - Compared with many other major operators, Chesterfield has been fortunate with losses of buses due to fire damage.
Although some buses were damaged in the fire at the Thornfield Depot in 1957 none were lost. The last bus to be withdrawn because of damage caused by fire was a 1937 Leyland TS8 with Leyland B32R bodywork, No. 24 (ERA 96). This was burnt out in Brimington Road North in 1947 or 1948."
And from September 1983 :-
"Vehicle Reinstated - 123 -  1973 Daimler Fleetline (NNU 123M) - reinstated to service on 15th July, 1983 following complete rebuilding of its bodywork in the Chesterfield Transport Department workshops. It had been burnt out and withdrawn in September 1981.
From May to July 1983 the final stages of the rebuilding work progressed rapidly, with the overhauling of its engine and finishing of the interior of the bus. It was fitted with power-assisted steering and received several minor modifications compared with the other buses of its batch. A minor external difference being a small vent in the nearside of the front panel beneath the windscreen. This is for the drivers cab heating system.
The final stages of its return to service were as follows :-
Rebuilding completed - early July, 1983

Repainting - 4th to 11th July, 1983

Road Testing - 12th July, 1983

M.O.T. Test - 13th July, 1983

Re-licensed - 14th July, 1983

In Service - 15th July 1983
Its first working on return to service being Service 200 14:20 hours (Chesterfield - Sheffield - Clay Cross : Limited Stop).
It has also received a small plaque near the stairs in the lower saloon. This reads 'BUS 123 Rebuilt Chesterfield Transport Workshops After Fire Damage July 1983.'
Photos
In Preservation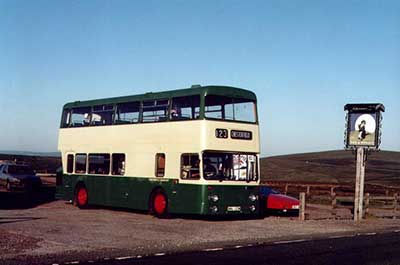 Sunday 1st June 1997 - 123 is seen at the Cat & Fiddle Inn on the Macclesfield to Buxton road, returning from Stoke-on-Trent.
PHOTO : P. Hopkinson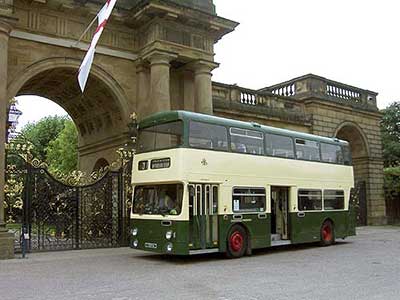 At Chatsworth House for the first Chatsworth Preserved Buses Gathering, 25th June 2006.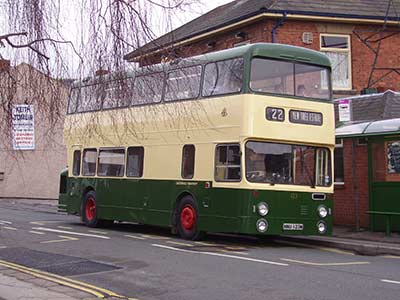 New Whittington.
PHOTO : Shayne Howarth

In service with Chesterfield Transport
A brand new 123 is seen entering Dronfield on service 12 to Sheffield.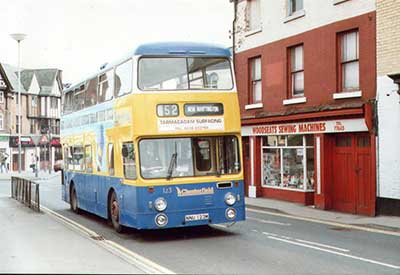 123 leaves Chesterfield Town Centre on service 52 to New Whttington.

Fire Damage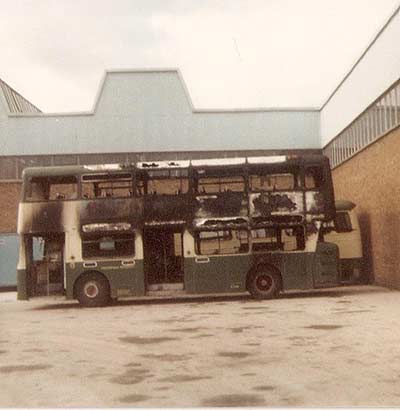 PHOTO : Anthony Herberts

PHOTO : Anthony Herberts

PHOTO : Anthony Herberts


After rebuilding - 1983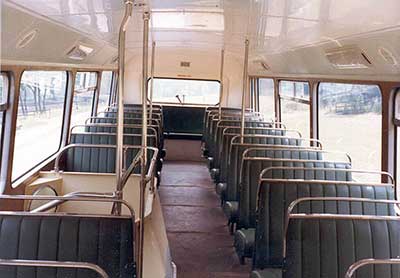 Top deck looking towards the back.
PHOTO : Supplied by Tony Stacey

Top deck looking towards the front.
PHOTO : Supplied by Tony Stacey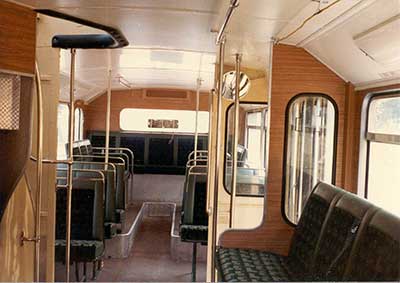 Lower deck looking towards the back.
PHOTO : Supplied by Tony Stacey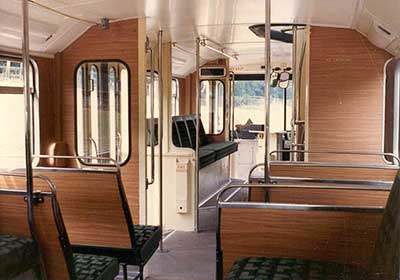 Lower deck looking towards the front.
PHOTO : Supplied by Tony Stacey


Working on 123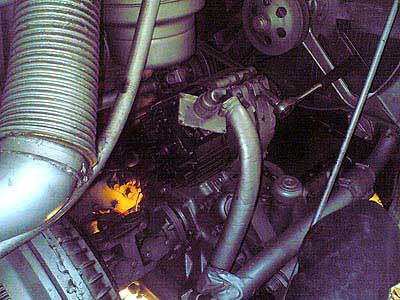 Sun 19/02/06 fitting new alternator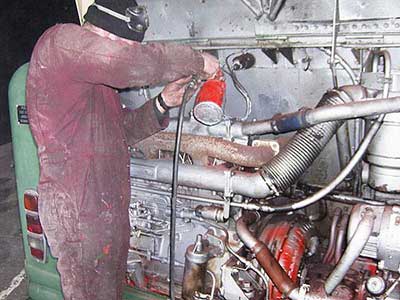 Sat 22/01/05

Sat 22/01/05 - rubbing down in preparation for repaint.