The return to Chesterfield of 114
by Paul Hopkinson - Email : paul.hopkinson@chesterfield123.org.uk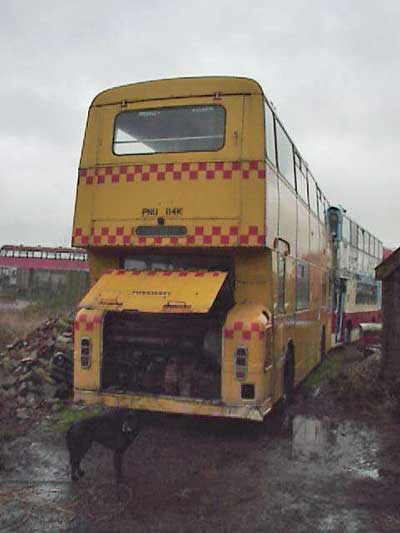 Our first view of 114 as we arrived at "Death Farm"
Now if there was ever a type of bus which I had long harboured a desire to own, the Northern Counties bodied Atlanteans of Chesterfield Transport were it. When they were withdrawn in the Autumn of '86, best remembered for sweeping changes in the bus industry, I was still a schoolboy and such things as bus preservation were "pie in the sky".
December 10th 2000 saw me extracting survivor PNU 114K from a muddy field in Westhoughton near Bolton known as "Death Farm" as only one bus has ever managed to escape! More of which later.
For the record 114 was new to Chesterfield Corporation entering service on December 1st 1971 with its sisters 110 - 113 (105 - 109 having entered service a month earlier). 114's chassis number PDR1A/1 7103713 with Northern Counties body 7259 (third build of batch). Most saw 15 years service with 105, 107, 110, 111, 113 & 114 being withdrawn in October 1986 with the remaining 106, 108, 109 & 112 following in November. All were sold to dealers and breakers between March 1987 and February 1988.
114 was sold to C.F. Booth at Rotherham in March 1987 who in turn sold it on to Black Prince Coaches, Morley near Leeds in April 1987. It and sister bus 109 saw service still in C.T. green and cream for Black Prince on such routes as 54 / X54 Morley - Leeds, 424 Morley - Gildersome. Interestingly sister bus 112 was also acquired by Black Prince and painted in their yellow and red livery but was never to turn a wheel in service as it had no engine or transmission.
We lost touch with these vehicles until 114 appeared in Blackpool in February 1988. It was now numbered 268 and had been converted into a mess room and mobile workshop by the Operational Services Department of Blackpool Borough Council for use on the Tramway. And there it stayed until August 2000 when it was replaced by a Roe bodied ex. Hull Atlantean (of a similar vintage).
Meanwhile all the rest of the Atlanteans had disappeared. In 1991 109, 111 and Roe bodied 121 turned up in service with J.C. Coaches, Widnes, being used on school contracts. All seemed in reasonable condition. They were photographed by us and the proprietor offered to let us know when he sold them. Unfortunately we never did get to know, but it would then have been a daunting prospect to launch a preservation bid.
No others are known to have survived save for Roe bodied 115 which surfaced a couple of years ago as a seat store for Farleigh Coaches, Wouldham, Kent, who did run it for a period in the late eighties.
Over the years several visits were made to 114 at Blackpool and in 1997, with the 123 Group firmly established, it was decided to write to Blackpool Borough Council to declare our interest in the vehicle. In fact several letters, emails and telephone calls were made. An acquaintance in Blackpool told us at the beginning of 2000 that 114 was to be withdrawn. Phone calls were made to certain individuals at the Council who assured us that we would be informed. One Tuesday in September 2000 we telephoned Blackpool Council who confirmed that the vehicle was available. A figure was agreed and a written offer was sent. In the meantime we received a phone call from the SELNEC Preservation Group informing us they had bought 114 for scrap from Blackpool Borough Council and had collected it the previous Saturday. Blackpool Council had therefore offered us a bus they had already sold! (They did eventually write back telling us they had already sold it). The good news was that the SELNEC group only wanted two thirds as much money as we had offered Blackpool!
As the SELNEC people had bought 114 for scrap / spares (it had turned out to be unsuitable for them) it had been put on a remote farm at Westhoughton. They had just bought Atlantean / Park Royal VNB 170L for spares, and it was decided that the vehicles would be switched on December 10th.
The day dawned wet and dismal as our intrepid band set off across the Pennines in 123. Meanwhile the SELNEC people had gone to Shrewsbury to collect VNB 170L. We were to rendezvous at the farm at 13.30. We arrived at 13.00 and decided to have some dinner first. I think the double decker bus in the car park of the pub was a dead giveaway to our whereabouts as a member of the SELNEC group descended upon us. The necessary paperwork was done and the vehicle documents were exchanged in the pub. It was now time to go and collect.
We were advised not to take 123 down the lane to the farm as conditions were non to good (understatement!). The lane was about ½ mile long and muddy. What was worse still was having to carry batteries and tools down to it.
114 was parked nose in with the back end up when we arrived. There was no discernible life in the batteries. The fuel system was bled and 124's batteries were connected with jump leads. A minute or so on the starter and the engine began to fire then nothing. It wouldn't even turn over! I produced a large screwdriver, shorted out the starter terminals. Amidst enough pretty coloured sparks to light up Blackpool in November, 114 chugged into life cylinder by cylinder and settled down to a smooth tick over. The air pressure built up OK and after an interesting few minutes manoeuvring out of the parking space we backed up to the farm house and turned around. It was at this point that we were congratulated by the SELNEC Group for extracting a live bus from "Death Farm". It seemed as if all the other buses hadn't turned a wheel in years. Some were returning to nature with trees growing through the floor and windows!
The interesting bit was not over. The farmer approached me in the driving seat. He said that if I drove normally down the lane I would probably slide into the ditch due to the soft ground and torrential rain. He said I was to hang the front wheel over the opposite edge. "Don't worry, you'll be alright!" Yes, OK, we were but it gave me white knuckles. Once safely on the Queen's highway we had a last minute vehicle safety check, some fuel was poured in using a cut down lemonade bottle as a funnel and we were away. The fuel was topped up a the first petrol station and we were away. On the M61 114 pulled away from 123. In fact, 123 was a small green dot in the distance by the time we hit the M60. I was forced to relinquish my position at the wheel at Stockport as everyone else wanted a go! We were only allowed a driver and a fitter on the vehicle at a time. The "fitter" had to watch the batteries, watch and smell for overheating or anything else untoward. Drivers and "fitters" were changed several times in the course of the journey. Only one came unstuck due to the lack of power steering!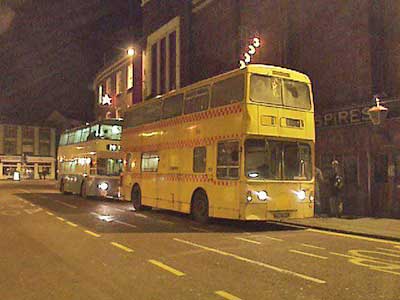 114 and 123 in Chesterfield Town Centre outside the former Regal Cinema.
Because of the closure of the Chapel-en-le-Frith by-pass a tortuous route through Whaley Bridge and the A5002 to Buxton was necessary (As there is a 14" 3' bridge on the Chapel road which 123 will go under but 114 will not). Save for having to re-connect the slave batteries on the climb out of Whaley Bridge, as the lights were getting dimmer, the journey passed off without incident. Some Transpire members were telephoned to be informed of 114's return and a reception committee awaited us at Brampton Terminus, by which time darkness was truly upon us. It was over 14 years since 114 had last run in Chesterfield, its last working having been the 17.50 route 203 from Sheffield to Chesterfield on 24th October 1986, 2 days before deregulation (although 114 was not officially withdrawn until 29th October). All that remained was to run 114 to its new home at Sheepbridge.
The following week work started on the removal of the toilet, sinks and other partitions and workbenches, this work is continuing. With good batteries 114 will start readily, even in the sub-zero temperatures of late December 2000. Investigation work will continue as to the structural condition and a restoration plan will be made accordingly.
We are always on the lookout for more volunteers to help with this project, either physically or financially. Anyone feeling they can help, please contact us.
I will leave you with a question. When 114 was new it was fitted with a standard Northern Counties periscope for the driver to view upstairs, and seating for 73 passengers. In 1972 this was replaced with a much larger affair which necessitated the substitution of the upper salon front right hand dual seat with a single one, reducing seating to 72. Why was this done? If anyone knows or if anyone remembers the original layout please let us know. We are intrigued!